Aside from the stress-reducing effects of drumming (and playing music in general), drumming activates the brain and can increase focused attention.
The following is an excerpt from my book, Different Drummer, which explores my inspiration for using fast, complex drumming to help with sustaining focused attention. I describe how I stumbled upon the core technique that would be the basis for the stimulation in all our programs and CDs.
You can learn more and order the book here
You can learn more about the REI Custom Program here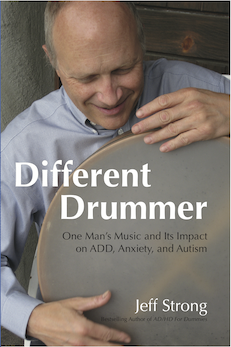 I'm a drummer and a tapper. I drum on everything. All the time. It drives many people crazy. I always thought that my need to drum was just because of my obsession with music and rhythm; but as I was doing some research for an upcoming study on ADHD, I discovered that I'm not alone in my need to tap.
"Have you ever heard of 'fidget-to-focus'?" David asked as we were talking about our study. David was a neuropsychologist. He worked at a progressive clinic in San Diego and he was also a drummer. Although ADHD wasn't his specialty, he was excited about exploring whether my drumming can impact attention. We were planning a study using a Continuous Performance Test (CPT) to collect quantitative data.
"No, what is it?" I replied.
"It's based on a study done years ago on coping strategies people with ADHD develop to help them focus. This study was exploring why it was believed that ADHD was considered a childhood disorder that people grow out of as they reach adulthood. It turns out that people don't necessarily grow out of ADHD. Instead, many people develop strategies to help them function better. The ADHD is still there."
"So what does fidgeting have to do with it?"
"Well, it seems that fidgeting is one of the most common strategies people with ADHD use to keep their attention. Most are simple things like rocking, shaking a leg, playing with a pen or pencil, anything that uses a motor movement to keep them engaged."
"Like drumming."
"Perhaps. Do you suppose there is a higher prevalence of drummers with ADHD than other musicians?"
"I don't know. That's an interesting idea, though. Most of the drummers I know are kind of like me. In fact, I don't know any drummers who are not at least a little distracted, impulsive or hyperactive."
"That would be an interesting study to do someday. But for now, if we consider fidgeting to help with attention, musical or not, perhaps the rhythm impacts the brain in a positive way."
"It seems like the case to me, but what does fidgeting mean for our study?"
"Probably nothing, but maybe we can use the concept of fidget-to-focus as a basis for our hypothesis. Didn't you say that you started developing your therapy from your experiences playing the drums and feeling more focused?"
"Yes. I guess that would be like fidgeting-to-focus. Only I wasn't doing it solely to help focus. The drumming exercises were homework. And I wasn't just focusing better while I drummed, I felt more focused afterward. The residual focusing effect was the basis of exploring the drumming for focus. My goal was to see if listening to syncopated drumming rhythms provided the same focusing effect as playing my homework exercises."
I described to David that one of my challenges while attending the Musician's Institute was being able to keep up with the pace of my classes. The most difficult for me, and many percussionists, was music theory and composition. I spent a lot of time analyzing music, digging deep into the structures that were being used in rock and jazz music (to this day I can't listen to the Beatles and enjoy their music for what it is. I always find myself remembering the many hours spent dissecting their songs). As someone with ADHD, focusing on the mundane analysis of music theory and composition was nearly impossible. Contrasted with this was my favorite class, sight-reading, where it was always interesting and, as a result, easy for me to focus on.
Because I wanted to avoid music theory and instead work on sight-reading, I decided that I would reward myself for my theory and composition work by doing my sight-reading exercises before going back to some of the mundane work I was assigned. As someone who was somewhat impulsive and hated delayed gratification, I quickly decided to reverse this plan. Instead of theory first, I would allow myself to spend a half hour or so doing my sight-reading exercises then dig into theory for 30 minutes, followed by another bit of sight-reading.
The reason I preferred sight-reading was that I was able to play continually unique patterns. One basic exercise consisted of reading rhythm patterns from a book on syncopation, calledProgressive Steps to Syncopation For the Modern Drummer, by Ted Reed. The patterns were random combinations of 8th and 16th notes written across the page, page after page throughout the book.
My assignment was always to choose a page and read it in varying ways. Left to right, top to bottom, bottom to top, right to left, diagonally, whatever. The goal was to always be reading one or two measures ahead of where I was playing. This got me accustomed to reading ahead, therefore when confronted with a new piece of music, I could read, comprehend, and interpret it right away and convincingly perform it the way the composer intended. I loved these exercises. They gave me a rush.
Imagine my surprise when I also discovered that these exercises made doing my theory and composition work easier. After 30 minutes of sight-reading, I'd switch to theory and, to my amazement, could focus. The analysis was easier and the musical structures started making sense. I could even begin to appreciate the simple predictability of the Beatles' music (especially since I never really liked listening to it – still don't).
And analyzing more complex music of some of the progressive jazz-fusion bands like the Mahavishnu Orchestra or Weather Report became rote. My grades for the semesters after discovering this sight-reading-then-theory pattern confirmed what I felt. I was focusing better and grasping complex concepts better.